Overview
Hello everyone! Printhouse bundle is here! In the package you will find 273 amazing templates 🙂
files works only in Photoshop (min. PS CC – newest version recommended);
WARNING! Part of the mockups are using 3D functions of Photoshop, make sure you have all the options enabled!; Please download demo to see if all the features work with your software: https://we.tl/t-v9qwPQGUp1
273 editable .psd files, 50 different products: 6000×4000 px, 300dpi;
changeable colors and designs of objects;
changeable backgrounds: custom color;
typohraphy and designs are not included in the main zip file;
well organized layers like in all Creatsy mockups.
93.5%
Savings
$750
Regular price
$701
You save
| | |
| --- | --- |
| Author | Creatsy |
| File Type | .PSD |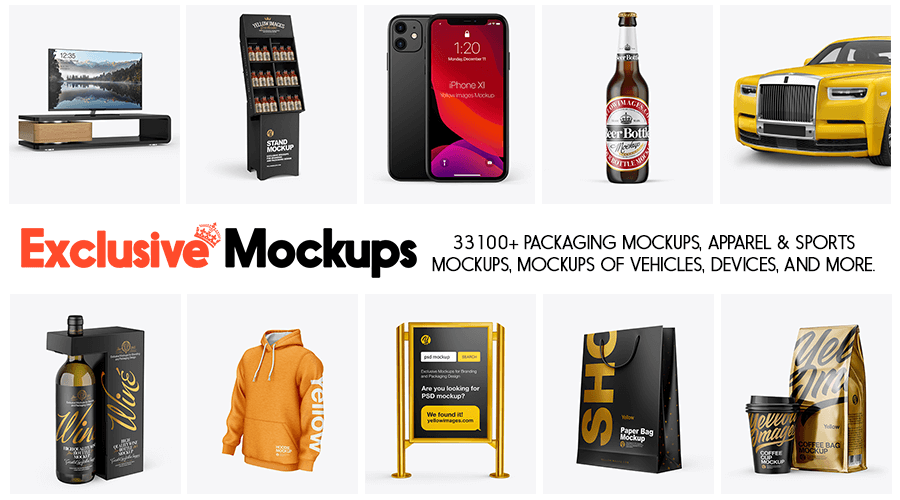 What will you get?
50 Mockups sets included (273 views/psd files):
1. Stand Up Pouch (glossy) Mockup Set – 4 PSD
2. Stand Up Pouch (metallic) Mockup Set – 4 PSD
3. Stand Up Pouch (mat) Mockup Set – 4 PSD
4. Stand Up Pouch 2 Mockup Set – 4 PSD
5. Side Gusset Bag Mockup Set – 4 PSD
6. Metallic Bubble Mailer Mockup Set – 4 PSD
7. Stand Up Zip Lock Pouch 3 Mockup Set – 4 PSD
8. Non-Woven Tote Bag Mockup Set – 4 PSD
9. Die Cut Kraft Paper Bag Mockup Set – 4 PSD
10. Metallic Kraft Paper Bag Mockup Set – 5 PSD
11. Natural Kraft Shopping Bag 1 Mockup – 5 PSD
12. Natural Kraft Shopping Bag 2 Mockup – 5 PSD
13. Eurotote Bag 1 Mockup Set – 4 PSD
14. Natural Kraft Shopping Bag 3 Mockup – 5 PSD
15. Woven Tote Bag Mockup Set – 4 PSD
16. Non-Woven Tote Bag 2 Mockup Set – 4 PSD
17. Laminated Non-Woven Tote Bag Mockups – 4 PSD
18. Laminated Non-Woven Bag Mockups 2 – 4 PSD
19. 2-Piece Apparel Box Mockup Set – 4 PSD
20. Eurotote Wine Tote Bag Mockup Set – 5 PSD
21. Eurotote Bag 2 Mockup Set – 4 PSD
22. Laminated Non-Woven Bag 03 Mockups – 4 PSD
23. Matte PVC Reusable Tote Bag Mockups – 5 PSD
24. Vinyl PVC Reusable Tote Bag Mockups – 5 PSD
25. 6 Bottle Non Woven Tote Bag Mockups – 4 PSD
26. Insulated Cooler Bag Mockup Set – 9 PSD
27. Natural Kraft Set Box Mockup Set – 8 PSD
28. Glossy Gift Square Box Mockup Set – 4 PSD
29. Kraft Tuck Top Gift Box Mockups Set – 6 PSD
30. Chipboard Gloss Gift Box Mockup Set – 4 PSD
31. Magnetic Gift Box Mockup Set – 5 PSD
32. Therm-O-Tote Insulated Bag Mockup – 10 PSD
33. Matte Gift Square Box Mockup Set – 4 PSD
34. Mesh Shopping Tote Bag Mockup Set – 4 PSD
35. Round Roll Stickers Mockup Set – 10 PSD
36. Pamphlet Mockup Set – 5 PSD
37. Bubble Mailer Mockup Set – 5 PSD
38. Sandwich Zipper Bags Box Mockup Set – 6 PSD
39. Soft Bubble Mailer Mockup Set – 5 PSD
40. 6ft Polyester Tablecloth Mockup Set – 4 PSD
41. Folded Handle Kraft Paper Bag Mockup – 5 PSD
42. Kraft Paper Pillow Box Mockup Set – 6 PSD
43. Magnetic Gift Box Mockup Set 02 – 5 PSD
44. Sandwich Snack Paper Bag Mockup Set – 14 PSD
45. Two-pocket Folder Mockup Set – 7 PSD
46. Folded A4 Cards Mockup Set – 6 PSD
47. Ripstop Reusable Bag Mockup Set – 6 PSD
48. Collateral Sleeves Mockup Set (2) – 8 PSD
49. Flat Cards Mockup Set – 10 PSD
50. Lunch Bag Mockup Set – 9 PSD